| | |
| --- | --- |
| Posted on 5 April, 2014 at 0:20 | |
Q: I'm not used to being filmed by so many cameras and feel bit nervous. Do you have any tips?
A: Simply enjoy your day, be natural and pay no attention to the cameras as if they are invisible. Your Bridal party will help make it a fun day for you.  Your Wedding is a live event so if something doesn't quite go to plan, just shrug it off and don't let it ruin your entire day.  You are saying your vows to your partner so try to avoid constantly looking at the Celebrant just because he or she is talking. Instead, look deeply into your partners eyes and dont be afraid to show emotion.  Please place your Wedding rings on from underneath your partners hand to allow the camera to capture a nice close-up as per image below.  Don't forget to remove your engagement ring beforehand. Try not to touch your nose and avoid any wardrobe malfunctions at all cost.  During the congratulation stage please keep together and smile a lot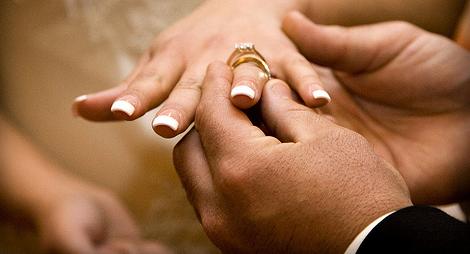 Q: Can I keep a copy of the Raw Footage from our Wedding?
A: No as this is sometimes unwatchable unti it is edited together with footage from the other cameras. The final video is editied using all the best shots. The raw footage remains the property of Sapphire Film Productions
Q: What if my DVD is Lost, Stolen, Damaged or Faulty
A: We keep a back-up copy of your final edit on our hard drives in the event of any of the above we can simply make another copy.  We offer after sales support for our product in case there are any issues whatsoever. The final edit should be viewed and accepted by you at a screening before it is released. After you have signed off on it any further editing may attract a small fee
Q: How long does it take to recieve the completed video? 
A: Approximately 4-6 weeks depending the time of year sometime sooner sometimes later
Q: Can I have my favourite songs featured on my Wedding video
A: Yes, we are fully liscensed with AMCOS/ARIA to use copyright music on your video. However, there are some conditions (see our contract)
Q: Do you charge extra for back-up copies?
 A: There is no copyright restrictions on your video. The law states that you can make up to 20 copies for private purposes only. It is not to use for promotional purposes whatsoever
Q: Can I upload my video to Youtube for my relatives overseas?
A: You may only upload partial sections of your video onto Youtube that don't feature copyright music eg the ceremony or speeches. You can however at the consultation stage choose to have royalty free music which there are plenty to choose from
Categories: Frequently Asked Questions
Comments are disabled.